This post is sponsored by Better Homes and Gardens at Walmart.  All opinions are my own.
When Better Homes and Gardens emailed me this month's post assignment it felt a little like an impossibility. We had to post about their outdoor line. In February. I'm in New England.  After receiving the products weeks ago I waited. And waited and waited hoping that the snow would melt outside in time for a photo shoot. Then the twins joined our family and more snow came. So… outdoor products from Better Homes and Gardens are being shared inside! 🙂
We purchased this fun rug to go under our patio table outside in an effort to extend our white and navy theme outside. It'll look especially dynamite when the house is painted this summer (it'll be Behr's Ultra Pure White with Club Navy doors and shutters). We want the whole house to ooze classic and comfortable New England ocean house (if you are new here we are a 1/3 of a mile from the ocean) from the paint colors to the decor.
This rug is definitely busier than my usual style, I generally go for things that are a little more understated, but thought it would be fun to be a little more bold outside. I added some throws, which, try not to choke, are only $11.94 each. I figured they would be perfect for cooler summer nights on the patio… or for keeping away those heinous mosquitoes (one of the three parts of summer I despise, the others are fruit flies and temps over 85).
I've always thought outdoor lights by the patio table were incredibly charming so I bought two boxes of uniquely shaped lights to string up over the sides of the porch once the weather is nicer.
I can't wait for lazy dinners out on our gussied up porch with the grill going, lemonade, corn on the cob and lobster… but for now, let me show you how I put together this space so you can make your own simply beautiful space: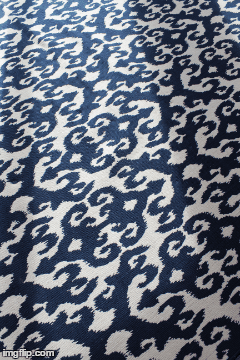 Do you have any fun plans to spruce up your outside before summer is over?